1966 Oldsmobile Toronado: Innovation beyond imagination
1966 Oldsmobile Toronado: Innovation beyond imagination
EngineV8, OHV
Horsepower385 BHP (283.36 KW) @ 4800 RPM
Torque475 lb-ft @ 4000 rpm
Weight4365 lbs | 1979.931 kg
Drive TypeRWD
Engine LocationFront
Transmission3 Automatic Turbo-Hydramatic
The Oldsmobile Toronado is GM's attempt to create a Personal Luxury coupe with great design, a powerful engine, and advanced technical equipment. Unfortunately, Oldsmobile has not appreciated accordingly, and it almost failed in sales.
Source: Supercars
Luxurious, innovative, but almost a failure – this is the first generation front-wheel-drive muscle car Oldsmobile Toronado (1966 – 1970). It entered the history of the American automotive industry not only as a pioneer but also as a popularizer of front-wheel drive. This Personal Luxury model introduced several cutting-edge technical innovations at once, quite different from the existing American cars of its era. Introducing the European style of Gran Turismo to the masses, Toronado remained a true American classic muscle car with the ideology – " there is never enough power". Using the most monstrous V8 power available at GM's plants, the design of this "athlete" turned out to be surprisingly compact and, as the practice has shown, very reliable.
American front-wheel drive
Beginning in 1954, General Motors engineers worked on a so-called combined power module, including an engine, automatic transmission, and differential, which was for the introduction of front-wheel drive on mass cars. The result was a front-wheel-drive monster with a powerful 7.4-liter V8 – Oldsmobile Toronado. At first, GM designers planned to install a new unit in one of Oldsmobile's compact models, but then marketers intervened, believing that it did not make sense to spend huge sums of money to "shove" an advanced development into a budget car. So it was necessary to create a separate chassis. In addition, the development plan of GM Corporation provided for the introduction of a new sports car with a powerful engine, a two-door coupe body, an original design, and an interior into the model ranges of all brands.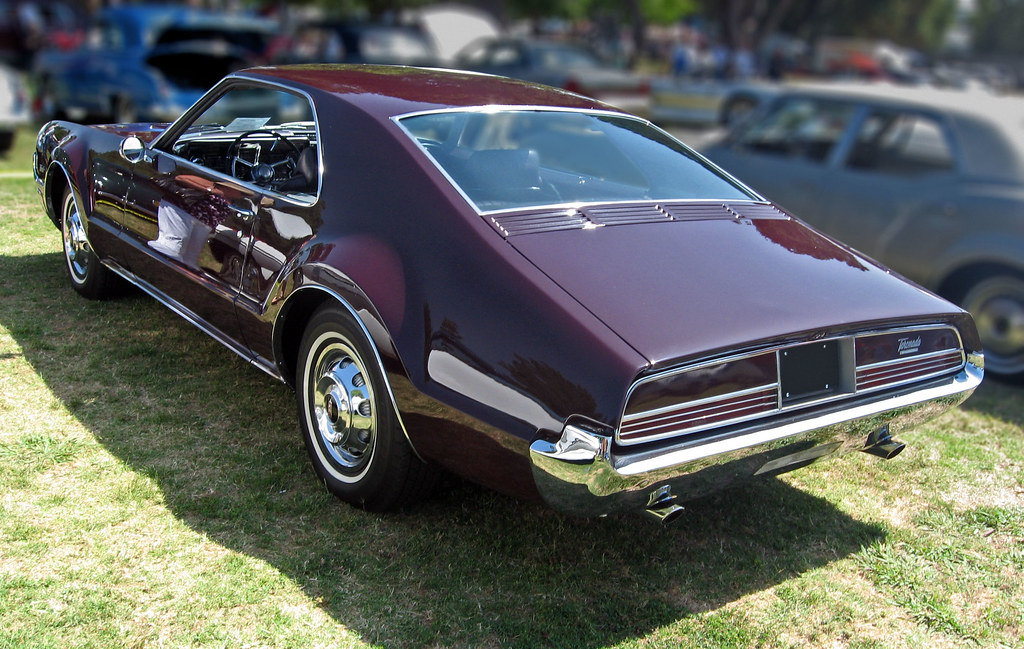 Source: Flickr
The Oldsmobile engineers did their best by designing a unique front-wheel-drive chassis (there were only two front-wheel-drive car companies in the USA before that: Cord and Ruxton, both not very successful). When a sketch of the car was finalized, it became the winner of the competition among Oldsmobile designers. The result was a supercar with a sloping roof, massive rear pillars, smoothly turning into wings, a long hood, and closing headlights. The technical stuffing also did not disappoint. That same combo included a 7.4L V8. 385 hp (soon the power was brought up to 400 hp), the torque from which was transmitted using a chain to the main gear mounted in the crankcase. The conventional wisdom nowadays is that a front-wheel-drive car can effectively handle up to 300 horsepower maximum, but the Toronado somehow handled four hundred horses. Toronado's name came from the Spanish word toro ("bull") and tornado – whirlwind – a perfect name for a perfect sports car that was able to reach speeds of up to 220 km / h.  In 1968, it received the title of "Car of the Year" from Motor Trend magazine.
Almost a failure
Source: Mecum Auction
In 1966, Oldsmobile Toronado's debut was the most talked-about event. It was a remarkable launch of the first front-wheel-drive car. Toronado did not descend from the pages of the automotive press of those years. Journalists praised the car for its excellent handling, responsive engine, and excellent design. However, for average Americans Toronado was only a marvelous vehicle to admire, but not to buy. Well, first-year sales were good, and in 1966, 41 thousand cars were sold. However, the next year's sales collapsed by half. Ordinary buyers did not seek to buy Toronado. They were put off by the peculiar design, front-wheel-drive layout, and exotic UPP power module. In other words, the Oldsmobile's advantages turned into disadvantages. To save the situation, the famous sports car went through several updates in mechanics and design. The engineers even softened the suspension, as many potential buyers complained about the Toronado's overly stiff ride. But it did not work. The market rejected the car, and 1970 was the final year in the fate of the first-generation Oldsmobile Toronado.
Did you know?
1966 Oldsmobile Toronado featured in a record number of films and TV series. This handsome can be found in The Dark Half (1993), Charlie's Angels (1976-1981), Blood, Guts, Bullets, and Octane (1998), Stir Crazy (1980), Disco Godfather (1979), Mad Men (2007-2015), Holly Valance: State Of Mind (2003) and much more.
For selling or buying this specific model or other classic cars, please visit our inventory.
1966 Oldsmobile Toronado: Innovation beyond imagination
EngineV8, OHV
Horsepower385 BHP (283.36 KW) @ 4800 RPM
Torque475 lb-ft @ 4000 rpm
Weight4365 lbs | 1979.931 kg
Drive TypeRWD
Engine LocationFront
Transmission3 Automatic Turbo-Hydramatic